Club news
It was a beautiful day at Aloysius and Lambert Parks on Sunday and after the midweek rain the pitches were in good condition. Our results were varied but the junior teams got particularly good results.
EASTER
Remember no games this weekend due to Easter. Hope everyone has a terrific break.
NEW CLUB POLO: A new club polo is available to order from Embroidery Creations,  cnr Young and Crisp streets, Albury. $25 includes the shirt with the club shield. Additional embroidery can be organised at the time of ordering at extra cost. More information in the sidebar on the left including links to sizing charts.
RESOURCES: For coaches and anyone else interested in the development of the game, the FFA has several resources on the national curriculum and training drills here. information can also be found under the Resources link in the menu on the Hotspurs website
---
MiniRoos
Training will continue over the school holidays. However, U9 coach Lewis is unavailable due to a plethora of sporting commitments so any U9 kids are welcome to train with the U8 or U10 teams from 4:30-5:30pm.
MiniRoo School Holiday Training
U5-U7, 5-6pm
U8-U10 4:30-5:30pm
A reminder the Gala Day will be at Willow Park Wodonga on May 3, times TBA.
Coaches and parents: all information from the FFA regarding MiniRoos can be found here. Please take the time to read so we all have a good understanding of our responsibilities.
Players must be registered and financial. If you have any queries with registration please contact our Junior Registrar Jim Parrett 0428 609 835.
Players will also require black shorts, shin pads and boots. Gold Socks with two black hoops in the turnover can be purchased from the canteen on home games or on the night of first the first training.
---
Newsletters
All game reports to go in the newsletter need to be sent each week to wrights@dragnet.com.au before 10pm on the Monday after the game so they can be collated. The newsletter is emailed out each week. The report does not have to be done by the manager or coach so you can share the responsibility between the parents and/or players. If you miss the deadline I'll carry the article into the following week but please try to meet the deadline.  You can see past reports on the Hotspurs website.
Finally the award for our best report using the word of the week "the block" judged by the newsletter editor (me) goes to Therese Mott-Pekolj of the U12's/U13's who produced a googly report (well done yet again), pick up your drink prize from the canteen at the next home game. The word for next report is "easter".
---
Round 6 - Sunday, April 27
HOTSPURS v Albury City
All teams play at normal kick-off times
REMINDER
There are NO GAMES this Sunday  20th April as this is EASTER
DUTY TEAMS
The Duty team for the 27th April weekend is the Under 14 Boys – Please be at Aloysius Park at 7.30am to help set up the fields and pull down nets and put away equipment at the end of the day at 5pm and provide three people to assist in the canteen on the day.
---
Match reports
Under 11's V Twin City     BYEUnder 12's V Twin City     Won  8 – 0
A bit of a scrappy first half … should have done a Google search for our game plan. The second half was much better with the players more settled  and passing to feet and our shots at goal actually going in. 8-0 is a great win but with 23 shots at goal we will need to do another Google search to find where the other 15 shots went. We need a bit more communication between players.
Goals: Josh 4, CJ 2, Connor 1 and Kye 1
Awards: Riley, Connor, CJ and Josh.
Under 12's Girls V Twin City    BYE
Under 13's V Twin City     Won  5 – 0
For today's game we didn't need to use Google maps to find Kelly Park as the games were switched to Aloysius and Lambert Parks. Another game where the defenders were solid and didn't let the opposition get too close to our goals … Well done Harry, Marcus, Gerizim and Tim and Manny. Felix controlled the midfield well along with Wendell and Kye, CJ, Connor and Tyrese who all played well up front. Some nice passing to feet and some great one-touch passing as was indicated with the passage of play … Tyrese to Wendell to Kye to Felix back to Kye and then to Felix who scored/  A bit more talking would be good. CJ was unlucky on a couple of occasions with near misses over the cross-bar and around the upright. Scott made a couple of spectacular saves.
Goals: Felix 2, CJ 2, Connor 1 and Josh 1
Best on Ground: Gerizim, Tyrese and Marcus
Under 14's V Twin City     Won  2 – 0 (forfeit)
Under 14's Girls V Twin City     BYE
Under 16's V Twin City   Won  8 – 1
Both teams played well but hotspurs came out on top 8-1. Sam Thorman scored 4, Xander 2, Mitch 1 and Subash 1. Nice runs made by Mathew Clarke and Connor Jory, while Kyle, William and Caleb were giving great support in/out of defence. Lewis hit some ripper through balls to Nato and Townie. Sideline support provided from Azar gave inspiration to all the players. Lachlan played a great game adding support in defence and attacking up front. All round great effort from the U16s hotspurs!
Under 17's Girls V Twin City     BYE
Third's V Twin City   Draw  0 – 0
This was a really good team performance against a strong, physical team. Hotspurs worked very hard to keep their team structure and support each
other. In the end the Spurs nearly grabbed the winning goal in a very close match. Top effort by everyone but special mention to Caleb Parker and our goalkeeper Joel McDonough who both outstanding.
Over 35's V Twin City    BYE
Reserve Women V Twin City    BYE
Reserves V Twin City    Lost  0 – 9
A severely undermanned ressies with seven players unavailable were outclassed by a very strong team. The effort of all Spurs players is to be commended. Middi and Joncock were very good and Mickett played well in his return to the side. Special thanks to all the thirds who filled in to allow us to get a full side on the field.
Ladies V Twin City   Draw  2 – 2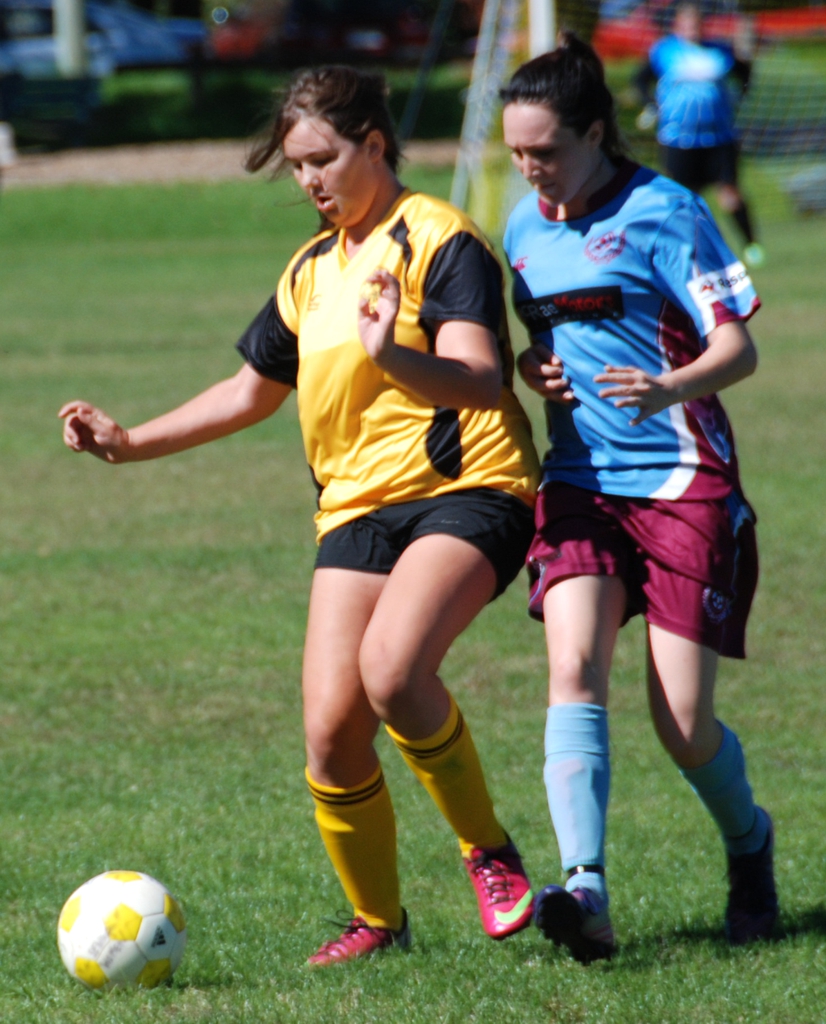 Seniors V Twin City     Lost  2 – 8
The Seniors played a team who showed why they are the favourites to win the League this year. Our opponents seemed to convert every chance they got in front of goal. Matt Townsends goal was as good as any in the game and it was great to see Tyson Mason get his first goal for Spurs. The boys played some good football in patches and two goals is the most Twin City has conceded this year.  We look forward to getting a win after Easter.