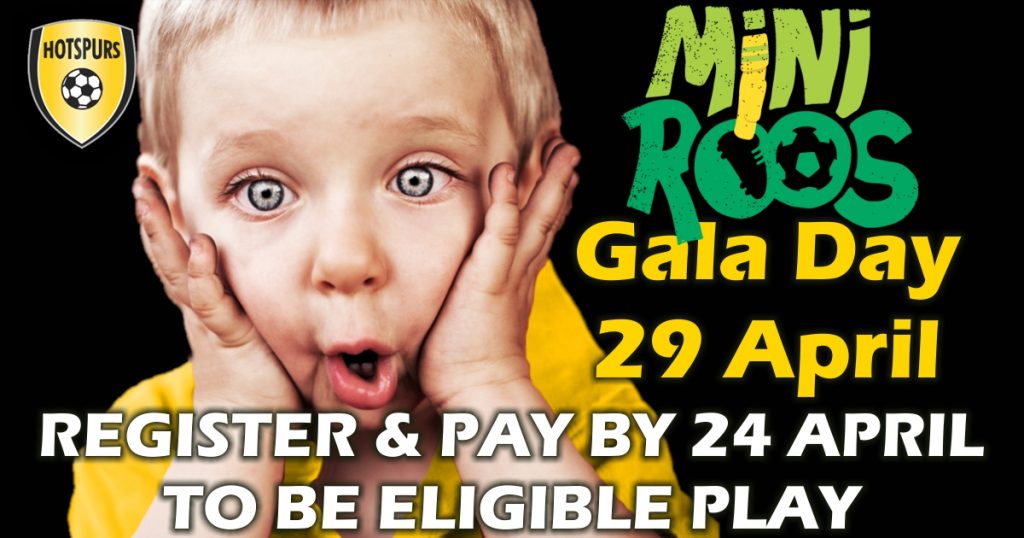 Miniroos Opening Gala Day 2017 is on Saturday 29 April, to be held at the Jelbart Park from 12:30pm.
Parent's please register your child and make payment by Monday 24 April so your child does not miss out on this fantastic fun day of multiple Minroos games!
Information on how to register can be found here.
Miniroos
The time has come for all Mini Spurs kids to get registered. The club will soon be organising teams to advise the AWFA our commitments for the season ahead.
Training will continue through the School holidays on Tuesdays at 5pm Aloysuis Park
29 April Miniroos opening Gala day (Times and Venue TBA)
Coaches wanted for Tuesday Training's to manage an age group.
Game day managers will also be required
If you are willing and interested please contact Mia to let her know or for more information.
Official Hotspurs online Shop
The shop is now live and taking orders. All product information and sizing can be found on each item in the shop.
More items coming soon, printed Hoodies, Track Jacket and Soft Shell Jackets. Let's Shop!
Team App
We encourage our club members, Coaches and Manager, players and parents to utilise the Team App app and all of it's functionality.
Coaches and Managers please see Kelvin Davies 0401 938 600 for more info and how this app can help with votes and last minute communications for cancellations, venue and time changes.
Easter
Reminder NO GAMES this weekend. Have an enjoyable and safe Easter.
Draw
Sunday 23 April
HOTSPURS v Wangaratta
at South Wangaratta Reserve
All Spurs teams play on this day at normal kick-off times. Allow an hour from Albury to get to the ground
11Girls 8:30am, 11 Boys 9:35am, 12 Boys 10:40am, 13 Girls 11:45am, 13 Boys 1:00pm, 14 Boys 2:15pm, 16 Girls 3:25pm Div 2 Women 9:30am, Over 35 11:00am, 16 Boys 8:30am, Thirds 9:55am, Sen Women 11:20am, Reserve Men 1:00pm, Senior Men 3:00pm.
---
Match Reports
11 Girls v Melrose won 22 – 0
The U11 girls team headed into their 2nd match missing a few players, but it didn't take long to see the team can adapt to different roles and quickly got out to a big lead. Daisy slotted 5 goals in the first 15 minutes, and would have scored a few more if she wasn't rested for the remainder of the half. The remainder of the half went the same way and we went to the break 11-0. The second half saw our first half keeper Ava come onto the field and with an energetic performance managed to put 5 goals away. In the end, we came away with a 22-0 victory. Daisy got one more to make it 6 for her, Sophie, Poppy and Elisha all got a goal, while Ruby netted 4, Alice and Tahlia both grabbed 2 each. Mya and Zali both played strong defensive games shutting down their speedy forwards. Isla played strongly before she succumbed to a stomach bug. Seanna played her usual strong and busy game constantly popping up in the right spot.
The most pleasing part of the game was how well the team passed the ball around until someone was in a position to shoot. The ball control skills the team displayed across the park was well above their age level and was a pleasure to watch. Well done girls!
Reminder no training this week.
11 Boys v St Pats won 5 – 1
In windy conditions and luckily before the rain , the U11s struggled with their first away game .We were tested up until halftime with the scores being 1-1 at the break .
Our defenders (and goalie Sam with some brilliant saves ) were working well to get the ball to our midfield however we were struggling to find our usual space as the St Pats game plan of flooding the defence with all their players was working for them .
Now this was a game our coaches wanted us to win ! With a pep talk by Mia , Jarrod and Joe at half time and Rose's oranges our Spurs came out firing in the second half. We started to set up plays -and stick to our game plan – Dustan did everything Mia asked of him and scored a goal when moved up forward .Ben was using his speed , played with new confidence and set up numerous scoring chances . Lenny and Alistair were a wall in defence and weren't giving an inch to the St Pats's danger players .Both Daisy and Ruby were in the action and were great support .
Cooper had some great shot at goals and is getting closer each game .Mitchel and Ryan both performed strongly and have been consistent each week and are having great starts to the season .
It's also great to see how much Haydos is improving each week and Louis is doing a great job in defence and goals .
Also well done to Riley, he did a great job in leading the team as captain.
Goals Mitchel 2 Ryan 1 Dustan 1 Ayden 1
Enjoy the Easter break and get ready for our first road trip to Wangaratta!
13 Boys v St Pats won 3 – 2
With three away we had great support from younger players Fraser, Jack and Mitch who all did very well and the team thank you.
The back three, Reese, Brodie and Cody were fantastic and not only halted many of St Pats chances but played out extremely well by not panicking and trying to find a safe pass. They had great support from Ava who dropped deep to help all game and then went into defence when Reese was forced to leave the field due to injury.
The second half Brodie went forward and Ethan dropped back who did equaly a great defensive roll for the team.
Our midfielders all worked hard and drove our attack forward.
Josh up front was unlucky to have what would've been his first goal ruled offside.
Tomo got us over the line with a great hat trick which proved the difference between the two sides.
We squandered a few chances and sometimes needed to pass instead of shoot. On field decision making is all up to you as a player and you need to be able to review your own game each week and try to improve in future games.
Happy and safe Easter to all, see you at training Thursday 21 April and please RSVP on team app your commitment to our next game v Wangaratta in Wang on 23 April.
Thirds v St Pats won 5 – 1
It was a miserable day at Alexandra Park. Great work from Joel and Scotty in goals. Zac scored our first goal (the wind assisted and sent it over the keepers head )We were treated to some lightning and Ollie scored our second. Third was a great goal by Indra! In the second half Ollie scored again and then a goal to St Pats .Zac scored our fifth goal. Thanks to Lewis for running lines. Well done everyone!
Over 35s vs St Pats lost 1 – 3
This really was a game of 2 halves. We were under the pump early & soaked up a lot of pressure from the opposition. Consequently we made a few mistakes & paid dearly for it with their big men scoring off a couple of swirling crosses into the box. It was pleasing to keep a clean sheet in the second half & as they faded we took control & created numerous chances, but once again could not turn our opportunities into goals.
Please RSVP your commitment to our next match v Wangaratta 23 April.
Reserve Men v St Pat won 7 – 3
The Ressies won their second successive game in a very attacking game which saw 10 goals scored. Milky and Dinesh both scored twice and Arjun, Majhi and Ash scored the rest. Best players included Promise and Birrell in defence and Arjun, Yuba and Milky up front.
Senior Men v St Pats won 2 – 0
The Seniors continued their improved form with a strong win on Sunday. It was a game of firsts with Ben Gardiner and Jerome Dunphy scoring their first goals for Spurs. Harry was good in goals. Mickett and Ranga were in top form in defence. Jerome played well and Sam was very busy in the front line.
---
Match reports and newsletter information
Please email all match reports, photos and Hotspurs news to info@alburyhotspurs.com.au by Monday evening at 9pm