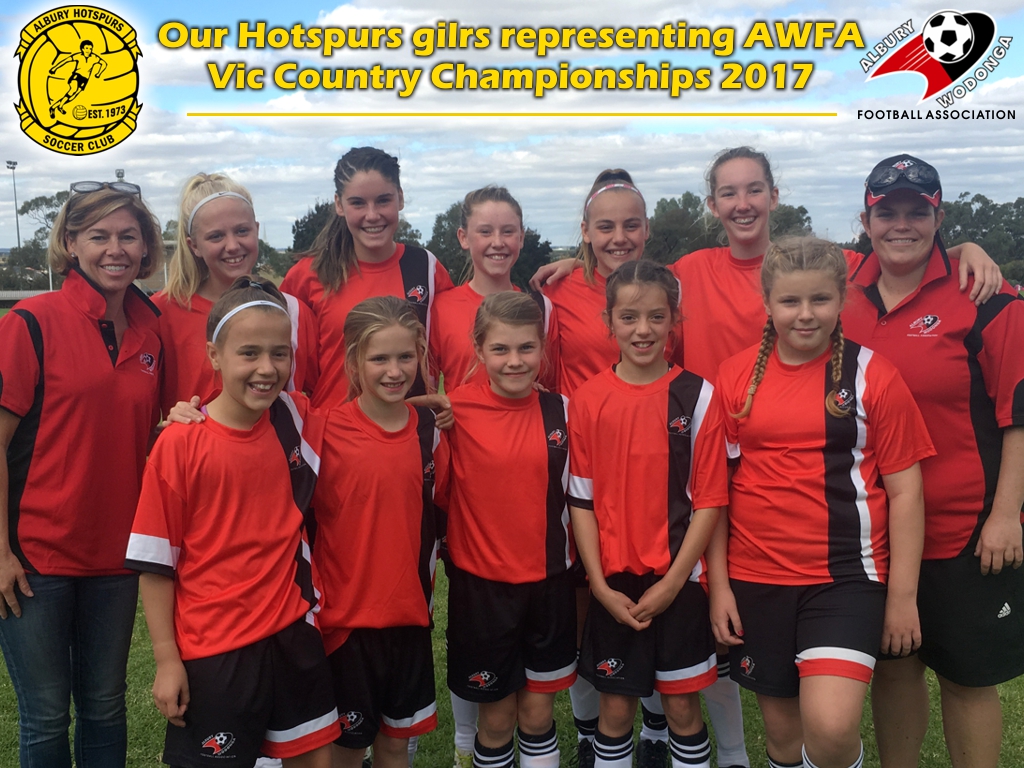 Congratulations to our club AWFA represenative girls on an outstanding effort at the Victorian Country Championships in Traralgon on the June long weekend.
The 16 and 14 girls were Champions while the 12 girls were runner up.
16 Girls representatives, Sarsha Smith, Bella Godfrey, Laura Gillard and coach Fiona Smith.
14 Girls representatives, Ava Tuksar.
12 Girls representatives, Tahlia Alvey, Ashleigh Carty, Ruby Lloyd, Daisy Tuksar, Keely Halloway, Lily Godfrey and manager Caroline Osborne.
Trivia Night

The Hotspurs Trivia Night is to return.
Friday 11th August at the Commercial Club
$25 per head includes food
Tables of 8 to 10 people
Bookings and more details to come.
Hotspurs Shop
The shop is now closed for maintenance/EOFY and will reopen for ordering of club gear 1 July.
Miniroos
Week 8 Saturday 1 July at Jelbart Park
5, 6 and 8 Years 12:30 PM kick-off
7 and 9 Years 1:30 PM kick-off
10 Years 2:30 PM kick-off
Please be at the ground 20 minutes before kick-off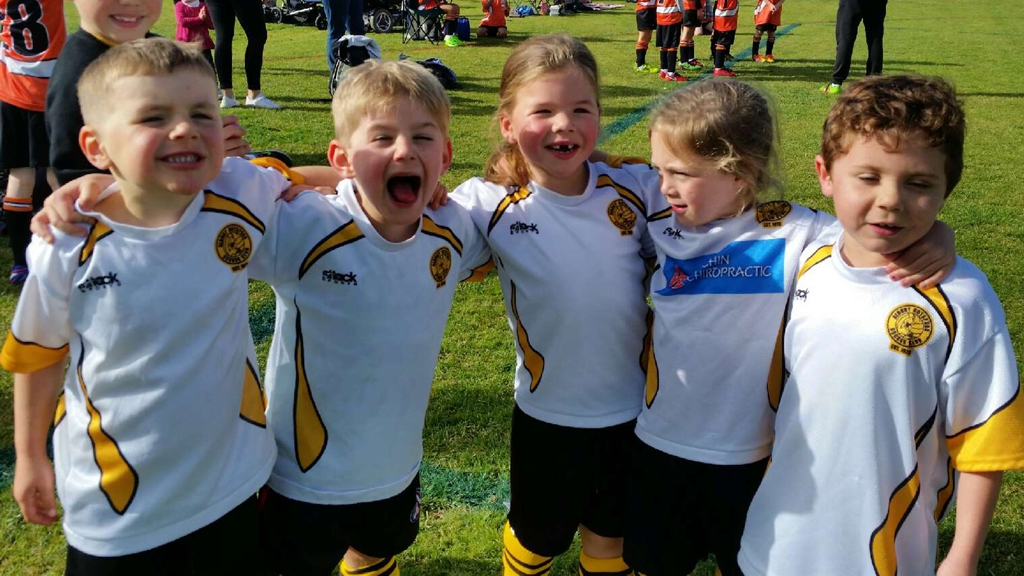 Our 5 years Hotspurs MiniRoos team
Albury-Wodonga Football Association Give Me 5 for Kids Gala Day 17 June 2017.
Draw
Sunday 2 July
HOTSPURS v Boomers FC
at Glen Park – Glenroy
9:35 am Elevens Boys
10:40 am Twelve Boys
11:45 am Thirteen Boys
9:30 am Reserve Women
11:20 am Senior Women
1:10 pm Reserve Men
3:00 pm Senior Men
All other teams have a BYE except,
Eleven Girls v United 8:30 am Jelbart Park
16 Girls v Diamonds 3:25 pm Kelly Park
---
Match Reports
11 Girls v Diamonds won 5 – 0
Another great game and team effort from the girls. The girls continue to impress with their skill level and teamwork.
The Spurs dominated possession throughout the match, continuing to move the ball around well and finding space down the wings. There were numerous strikes on goal, resulting in great goals to Alice, Bella, Elisha, Eloise and Tahlia. Particularly impressive for this match was the team's solid defence, seemingly repelling much of the opposition's advances at half way.
Well done to all the girls – another great effort from the Team. Special mention and awards go to Alice, Alex and Tahlia for their impressive contributions during the match.
11 Boys v Diamonds won 3 – 0
A great match by the Spurs with great attacking play and passing of the ball. Nathan was in explosive form on the wing and was instrumental with Mitch and Ryan in setting up numerous shots at goal. Cooper,Louis and Haydos were all working hard and with our backline being so strong the Diamonds really had no real strikes at goal .The second half was all Spurs and any time the Diamonds attacked Sam,Tyreece and Dustin soon got the ball back into our attacking half. Nathan played his best game all year and was so exciting and pleasing to watch, and deserved player of the match!
Thanks to David running the line, it proved dangerous at times but he saved himself with a Wonder Woman move he should be proud of !
Goals Ryan (2) Mitchel (1)
Awards went to Nathan,Louis, Haydos and Ryan.
13 Boys v Diamonds lost 1 – 2
The team played a great game and all players contributed to a very good team performance. The team can feel very hard done by, by not getting at least a draw from this game. The back four were excellent and were backed up by our hard working midfield.
Well done team, great effort.
13 Girls v Diamonds lost 0 – 6
A very solid game from the Under 13s who last time we played Diamonds lost 8 nil. We held the opposition for 20 minutes before they got away and scored some very quick goals before the half. Each and everyone of the girls played hard and tried their best against a much bigger opposition!!
Lil was awesome in goals and our defenders chased hard.Awards to Ruby who was awesome in defence, Lil in goals and Keely in Mid field. A great team effort girls!! Thanks Scott for running the line
16 Girls v Diamonds lost 4 – 9
With only 11 players and no subs and Diamonds a full bench the odds were going to be tough but Wow how these girls play together as a team and no matter what never give up!! Every single one of the girls never gave up and kept trying and trying. We managed to score 4 great goals against a team we lost to 8- 1 back in round one!! Great work to Yasmin, Lily, Kate, Grace, Ava, Bella, Laura, Lena, Salli, Paige and Tynecia. Thanks Justin for running the line. We play them again next week lets hopewe can improve and play hard. Great Job girls very proud of you all!!
Over 35s v Diamonds won 3 – 1
This team have had the wood on us for a number of seasons.
After last weeks fantastic effort we started of very scrappy & were lucky not to be a goal down after the first minute.
Our passing was lacklustre & astray. We hung back off the ball too much and created unwanted pressure for ourselves. Spurs were the 1st to score with a beautiful movement down the wing & into the centre of the box. As happens time & time again we rested on our laurels & let the opposition equalise in the following 2 minutes. A well-placed free kick into the back of the net had us going to the break 2-1 up. This was a position we were unfamiliar with!
We didn't panic in the second half but also didn't learn from the first as we continued to give them too much time on the ball. They attacked our goal & hit the woodwork twice. Thankfully a penalty to them was skewed aside by the taker. I must also take this opportunity to praise our keeper who pulled off some terrific saves to keep us in the match. Towards the end of the game a well weighted through ball resulted in us out pacing their backs to slot the winner home.
Some desperation in the last 10 minutes proved that we are able to hold a lead if we want to. A deserving result for us that shows we can compete against the top teams & win these games with the right attitude.
Reserve Men v Diamonds won 3 – 2
A really good performance by the Ressies. They dominated the first half but were 1-1 at halftime after missing numerous chances to score. A penalty by Milky and a great goal by Dinesh got the team a win in the second half. Ash and Sam were excellent in defence and Zac, Subash and Lewis worked hard in the middle. Dinesh and Arjun played well up front.
Senior Men v Diamonds won 3 – 1
The seniors continued their good form with a top win on Sunday. Two early goals by Jerome set up the win and when Towny scored a cracking goal the team were in complete control. We missed a couple of chances in the second half but it was a great win by the team. Tony, Ranga and Paul Kinning were really strong at the back while John Cochrane and Jerome had excellent games.
---
Match reports and newsletter information
Please email all match reports, photos and Hotspurs news to info@alburyhotspurs.com.au by Monday evening at 9pm