Hotspurs Trivia Night
Friday July 31 at the Commercial Club 7pm start
Adults $20 Under 18 $15
Great Prizes / Food provided / Drinks at Bar prices
Organise a Table of Eight
Book with Mark Belgre on mbelgre@hotmail.com or Phone 0438403872
Fundraiser report
A huge thank you to everyone who has supported our chocolate fundraising this year. We have some more boxes available if you would like another one to sell. Please see Narelle Tuksar if you are interested. Thanks again!
Newsletters
The award for our best report using the word of the week "wizard" judged by the newsletter editor (me) goes to goes to Emily Weavers of the Senior Ladies, pick up your drink prize from the canteen at the next home game.  The word for the next report is "golem".
We encourage all grades to submit match reports to go in the newsletter. Reports need to be sent each week to wrights@dragnet.com.au before 10pm on the Monday after the game so they can be collated. The report does not have to be done by the manager or coach so you can share the responsibility between the parents and/or players. You can see past reports on the Hotspurs website.
Resources
For coaches and anyone else interested in the development of the game, the FFA has several resources on the national curriculum and training drills here. information can also be found under the Resources link in the menu on the Hotspurs website
---
MiniRoos update
Please Note MiniRoos will break for school holidays i.e. Saturday 4th and 11th July- no MiniRoos on these dates.
No training on the school holidays, Wednesday 1 & 8 July for U8 & U10s.
Miniroos Teams for 2015 can be found here on our website
---
Draw for Saturday, July 4
School Holiday Break
Next game, July 18
Draw for Sunday, July 5
Hotspurs v Twin City Wanderers
at Kelly Park Wodonga

All teams play at normal times EXCEPT
All teams play at normal kick-off times except
12 Girls v United at Jelbart Park  1:10pm kick-off
Reserve Black match postponed
14 Girls, Reserve Gold, Over 35's  all have BYES
---
Match reports
Under 6 Black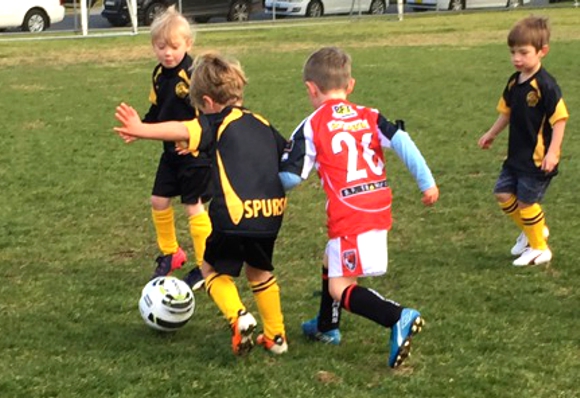 The under 6 black are improving every week. Saturday we only had 4 players as Lillian has broken her arm and we wish a speedy recovery. Henry was away on holidays which left us with Rhinnon, Rolo, Macca and Will. We borrowed players from Boomers to join our team for the game, thanks
Boomers. The Blacks passed the ball around well and all the team did not stop running the whole game. Rhinnon got a few good touches, Will hunted down the ball and kicked it up the line, Macc and Rolo defended and passed the ball around and we scored some great goals.
Well done u6 Black, keep up the good work and hope you are all having FUN!!
Under 8 White V Melrose
We welcomed back Singyu and Taylor to the team this week, as well as our new mascot Matilda, who orchestrated a warm up session of keepings off. With Singyu back in the team we presented a solid wall against a potent Melrose attack, with Murray as a last line of defence and Taylor's brother Jack helping out as goalie until Tilly arrived to bolster the midfield. After falling behind to a couple of early goals we got more organised and
used Isaiah's pace and Sienna's tenacity up front. We were unlucky in front of goal in the first half and then fell further behind as Melrose kicked
off the 2nd half when we weren't paying attention and scored straightaway. A lesson to be learned there. Always be aware. But in a stirring second
half comeback we scored goal after goal, with all the team involved. Well done everyone, and to Melrose for a sporting game. See you after the
holidays.
Under 9 Gold V St Pats
U11s Lost 1 – 2
We came in to the game as seventh to face off against the second-placed team in the comp and we also had three players unavailable. This did not deter us. Our structure was still good and all players dug a little deeper, worked a little harder and we showed that on our day we definitely have a chance of beating any team in the comp. The back four, Brodie, Reese, Harrison and Dawson, were excellent. Jay marshalled the centre and the little man had all the headers in the game. Little Mitch tried his best for the team. John and Bidish did their share in midfield, keeping it tight, tackling and playing some nice passes. Cody tried his best suffering from a cold and we thank him for battling through it. Tomo played up front but found himself coming back to help the team in defence a lot, which I was very impressed with.
Sodens award goes to Hamayun, who had an excellent game in midfield, he was strong and committed and calm under pressure.
Under 12s V Albury City Lost 0 – 4
Under 12s Girls V Albury City Loss 2-1 Saturday and Loss 2-0 Sunday
A big weekend for the girls who played back to back games against Albury City. We struggled to field a full team on both days which was very tough but the girls played as best they could. Lil had a strong weekend in goals. Ava was great on Saturday and scored a very nice goal and we missed her on Sunday. Charlotte and Alyssa were consistent across the two days and special mention to Daisy who shows great potential and had an impressive weekend up front and was very close to scoring but never gave up, as well as Katie who stepped up from the 10s to help out in her
first game for the Under 12s and did an awesome job in defence. Awards to: Daisy, Alyssa, Charlotte and Lil and Katie. Thanks Jason and Connor for running the lines!!
Keep up the big efforts girls!!
Under 13s V Albury City Lost 1 – 4
Under 14s V Albury City Lost 1 – 4
Under 14s Girls V Albury City Lost 0 – 6
A very tough game for the Under 14 girls with many of the team away the 9 girls took to the pitch with courage and determination to do their best and that they did, unfortunately Albury City were very fast. At half time the score was 5-0 but the girls didn't give up and played a great 2nd half.
lead by Sarsha and Bella. A huge team effort this week. Thanks Charlotte and Ava for helping the girls field a team. Awards to Millsy in goals, Ava who stepped up and helped the girls in defence, Tynecia and Emma who ran hard all game.
Well Done girls, Super Proud of the effort!! Thanks Tynecia for running the line!!
Under 16s V Albury City Draw 1 – 1
Thirds V Albury City Lost 0 – 4
Over 35s V Albury City Lost 0 – 5
There was no magical wizard today on the field for us, maybe a couple for the opposition. They got a freak goal in the first half but other than that it was pretty even except we did not create a lot of chances. In the second half we changed formation and the game opened up more for us but it left us vulnerable at times especially as we tired. Something to work on for future games.
Reserve Women Gold V Albury City Lost 1 – 3
A very good game from the reserve women against the ladder leaders. With just the 11 girls available the girls played well but just could not match Albury City in speed but the girls kept playing and did a great job!! Mia was absolutely awesome in mid field and was so hard on the ball. Our defence were held together by Snowy and Tayla and we welcomed Jules back who was incredible in goals and pulled off some amazing saves. KT was all over the pitch and did a great job. Thanks to Dave for running the line!! A solid team effort.
Reserve Women Black V Heart Lost 1 – 2
Reserves V Albury City Lost 1 – 7
Both our reserve men and senior men teams were severely undermanned this week with injury and unavailability. The reserves were behind 5-0 at halftime but played much better after the break. Ethan Hurley and Joel did well in defence, while Irish worked very hard in the midfield.
Ladies V Albury City Lost 0 – 12
The girls put in a solid effort against arguably the best team in the league. Even though the score was quite one-sided, the girls can be proud of the fact that they never gave in. We played for each other, and the desperation and effort never waned. An amazing and inspiring game by Kaylah
kept the girls in the game, and Anna, 'the wizard' Parett showed again her versatility and endurance, playing an epic game in midfield and later in
defense. The crowd and ref were very supportive, and drove us on. Let's play next week with the same enthusiasm and energy and we really should get the win we very much deserve!
Well done Hogwarts. . .
Seniors V Albury City Lost 1 – 8
The seniors tried hard but were really short of troops. Eggy kept up his  good scoring record with another goal. Brendan Dalrymple got plenty of work in goals and had a top game. Jon Cochrane and Ranga also had solid games for the Spurs.