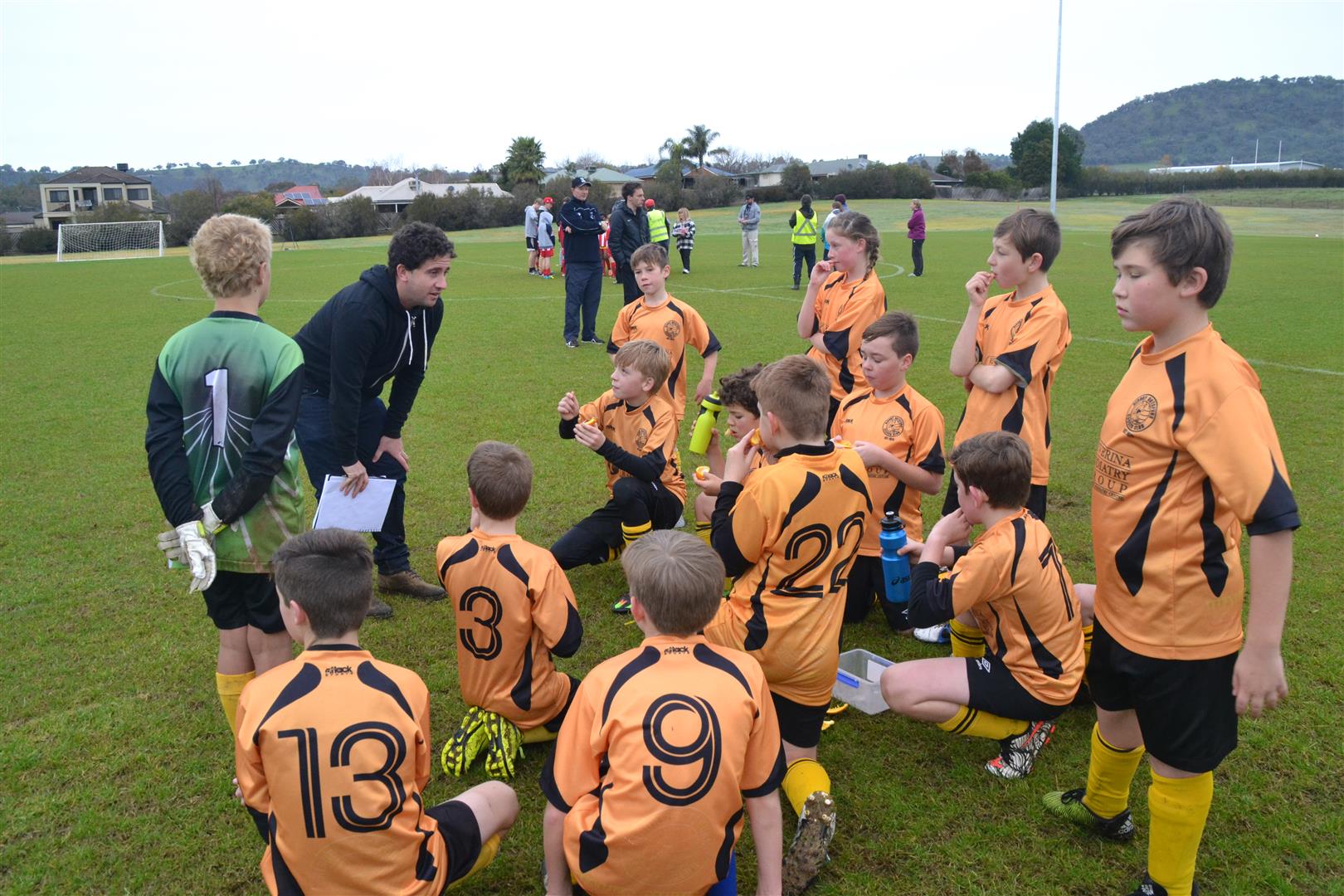 Irish delivering half time talk U11s v Diamonds
Get well soon "IRISH"
Brendan O'Neill (Irish) was injured in Sundays reserves game and has ended up with a fracture of his lower leg. Irish is a very popular member of our club and co-coach of our Elevens. We wish Brendan a quick recovery and look forward to seeing him on both feet very soon.
Trivia Night
The annual Spurs Trivia Night is set down for Friday 29th July at the Commercial Club. Save the date. Start organizing teams of 8-10. More details later.
AWFA Reps
A huge congratulations to all AWFA rep teams boys and girls who travelled to Bendigo over the long weekend. Some fantastic football was played over the three days in some very trying conditions!! It was great to see so many Hotspurs players represented, they did themselves and their teams very proud and most of all our great club!! Special Mention to Anna Parrett who played in  the Under 16 girls as this was her last rep carnival!! Well Done to all involved.
Sarsha Smith
Sarsha will be selling some cakes at the Spurs canteen on Sunday to help cover some of her representative football costs. Sarsha is a great representative of our club-please support her.
Funraising
Please note: Chocolate money is due back next home game against Albury City. Please return if you have not already done so. Much appreciated
More Chocolates: We still have a few unsold boxes of chocolates, if you can help out and sell another box or two please see Narelle. This is the clubs major fundraiser.
Pets/dogs at the grounds
Please keep all dogs on a leash at our grounds all the time, on training nights and game day thank you.
Albury City Council
Miniroos
Saturdays at Jelbart Park, Lavington.
Under 6 @ 12:30pm
Under 7 @ 1:30pm
Under 8 @ 12:30pm
Under 9 @ 1:30pm
Under 10 @ 2:30pm
Please make sure you are at the ground 20mins beforehand.
2016 Albury Miniroos Draw
 Draw
Sunday 26 June
HOTSPURS v Albury City
at HOME
All teams play at normal kick-off times except,
Div 2 Women and Over 35s Kick-off times to be advised
DUTY TEAM: The duty team for Sunday is the senior women. (3rd time lucky!)
Please be at the grounds at 7:30am to help set up. Thank you.
CATCH-UP GAMES v Cobram
Thursday 30th June at LaTrobe
Reserve Men 6:30pm
Senior Men 8:15pm
Saturday 2nd July at HOME
Elevens 12:30pm
Twelves 1:30pm
Thirteens 2:30pm
Fourteens 3:40pm
Sixteens 12:30pm
Thirds 1:45pm
Senior Women 3:00pm
---
Match Reports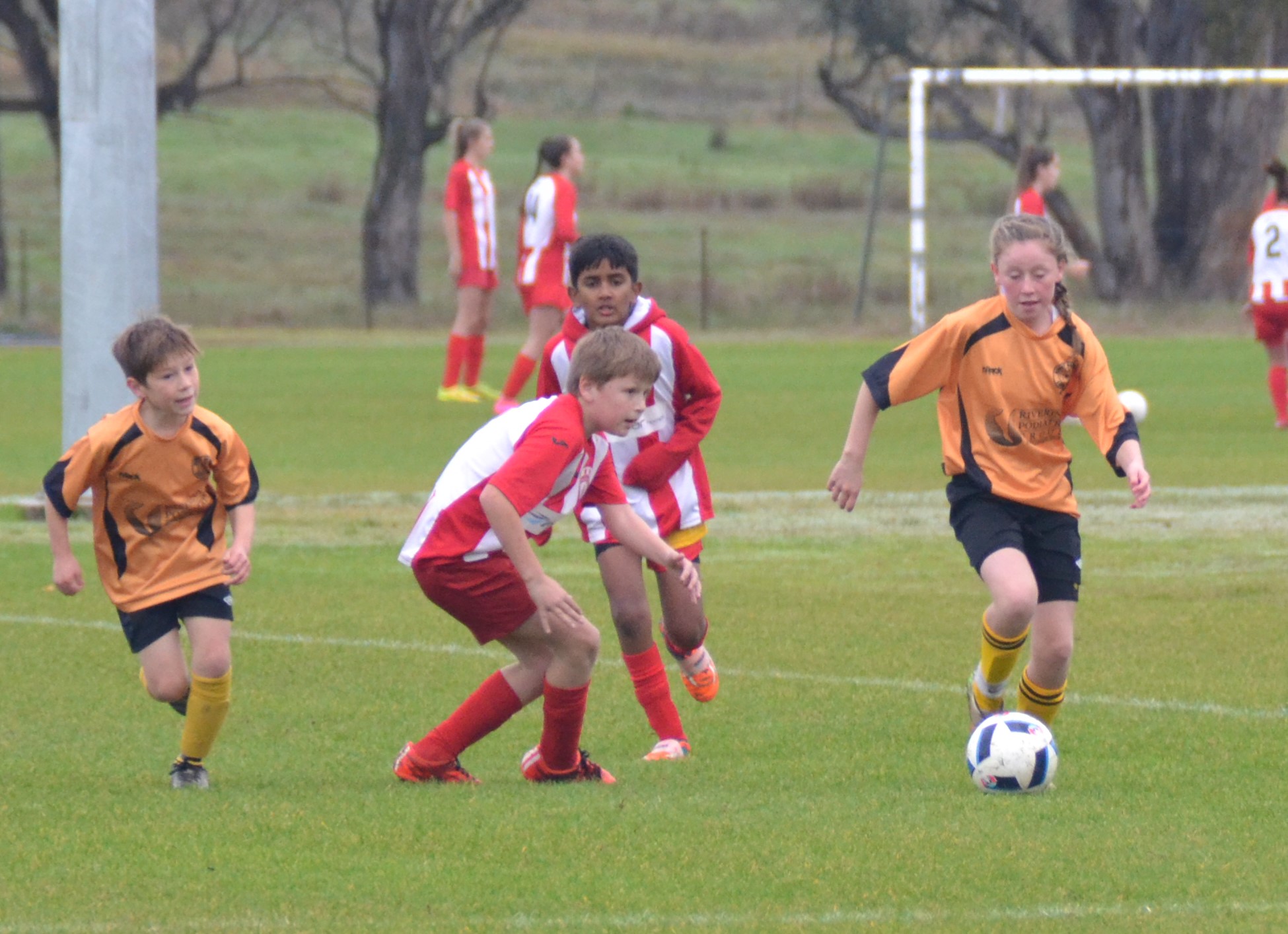 U9 Black
Awards: Charlie McKenzie, Nick Androutsos
The game of the year so far. We played the White team and after a rusty start were down 4-2 late in the second half, but with cracking goals from Cooper and Eloise saw us back on level terms and Poppy kicking the sealer near the end. 5-4
It was however the defensive pressure of Nick and Charlie that proved the difference in the end. I think we've found their futures as sweepers and wing backs.
Goals Cooper 3, Poppy 1 , Eloise 1.
Thanks to our u8s for filling in
A special mention to the white team who were great also. Hotspurs definitely have the best crop of U9s coming through the comp which is great for the future.
U12 Boys v Diamonds lost 0-2
A much improved performance from the last time we played them. We were unlucky not to score as we had enough chances to do so except for some excellent keeping by their goalkeeper. Our Ian was not to be out done and made his share of great saves as well. Well done team.
Under 12 girls: Loss 5 nil
A tough game for the girls against a side we beat 2 weeks ago. Diamonds passed the ball well and we couldnt hold them up. Ruby, Ashleigh and Daisy played well and Ava tried to be everywhere. Thanks Pete for running the Line again!!
Under 14 girls- nil all
A fantastic game of football to watch, these girls have such courage and play in the spirit of the game. Lil was absolutely amazing in golas growing about 1 metre to pull of a save going for the top corner. Bella and Sarsha teamed up well, with our defenders playing a great game together and holding out Diamonds. Awards to Lil, Mim and Grace. Well Done girls!!
U16 Boys Won 5-3
Spurs started slowly
First goal to Diamonds, wake up!
Spurs got passing going
First goal quick off Zac from Luke
Second goal came Luke from Josh
Half time saw Spurs 2 to 1
Diamonds came out leveling
Another to Diamonds off……
unlucky rebound ball!
Quick passing again Luke scores
Even – 3 apiece
Tension high – passing power
Ben to Zac 4-3!
Scottie worked hard some great saves!
Mannie solid & quick in centre
Solid defence Spurs!
Passing – Ben – Zac – Luke 5:3!
Ref scored one own goal?
Spurs remain undefeated!
Over 35s v Diamonds Lost 3-5
We were still asleep when we hit the park an hour earlier than usual. Within a blink of an eye we were down 0-3 and it took 10 minutes of backpedalling to jolt us from our slumber. We fought back hard and went to the break 1-3 down.
The second half was played with a steely determination with us gaining a goal to be within reach at 2-3. The goals kept coming from both teams at 2-4, then 3-4. The last goal to them in the dying minute off another deflection was typical of our recent luck. Still, we showed great tenacity in coming back from our poor start and clawing our way back into the game. Another positive to come from this game is the fact that we are now starting to score goals off the chances we create.
A great team effort.
Reserve Ladies: Loss 9-1
A tough day out for the reserve ladies!! We started so well in the first 15 minutes and even scored the first goal. Diamonds passed the ball extremely well and were super quick up front scoring goals from all over. Mary and Jess were strong up front and our midfield worked hard with Kate, Carissa and Claire doing their best, they were supported on the wings by Taneesha, Kaels and Gios. Our defenders worked hard but we just couldnt hold a very strong opposition. Keep working at it girls, the results will come!! Thanks again to the Castle boys for running the Line
Senior Ladies lost 3-1
The senior ladies had a stellar game on Sunday, resulting in a competitive score against a team high up on the ladder. Conceding only one goal in the first half, the score did not reflect the percentage of time the ball was in their half. The opposition pushed their players back into defence in order to stem the flow of opportunities that the girls created.
Determined to keep the score tight, the girls came out of half time strong, keeping the ball in the attacking half most of the time. Unfortunately another goal was conceded on a rare opportunity for the opposition. The determination paid off not soon after, though, when Jamie took advantage of the smooth play and got our goal which brought the score back to a one goal difference. Despite their perseverance for the entire 90 minutes, diamonds managed to get a goal in the last dying minute to stretch their lead to 3-1.
The girls are happy with the result though, a competitive score for a competitive team. Keep working hard girls and the results will come!
Reserves Men v Diamonds lost 3-6
This was an incredible game as the ressies led 3-0 at halftime. An injury to Irish held the game up for some time and after the break it appeared the teams had swapped shirts ! The shows the importance of playing for the whole game because if a team drops off things can change very quickly. A hard lesson for the ressies and we look forward to them bouncing back next week.
Senior Men v Diamonds won 4-0
Probably our best performance of the season. Spurs dominated the first half but there was no score at the break. The team continued their dominance and we were rewarded with four well taken goals. Mitch Ryan and Eggy were excellent up front and scored two goals and one goal respectively. The defence was very good keeping a clean sheet. Ray Kausche in goal made a couple of important saves and Paul Kinning and Indra were also outstanding. It was a top effort from the whole team.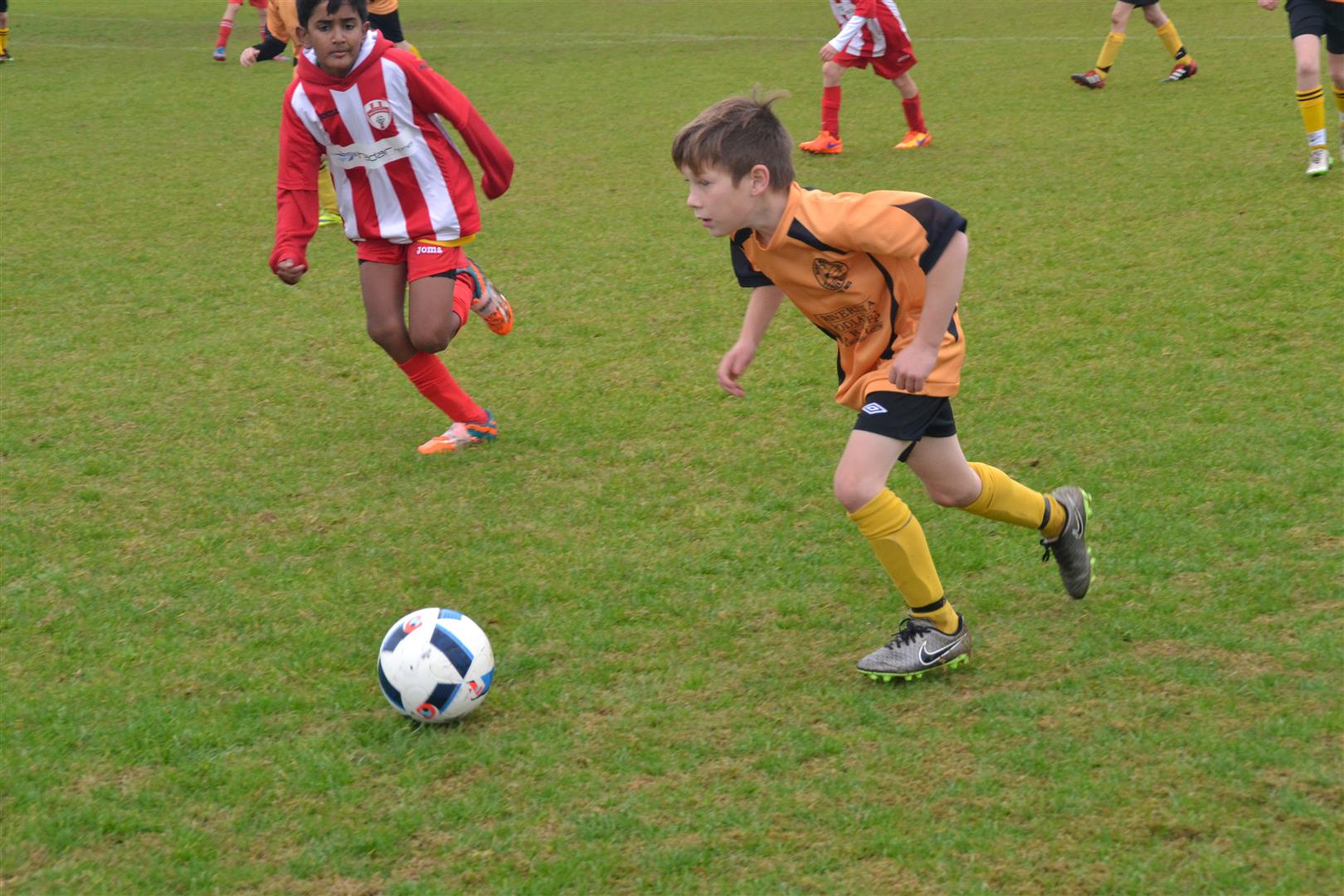 ---
Match reports and newsletter information
Please email all match reports, photos and Hotspurs news to info@alburyhotspurs.com.au by Monday evening at 8pm