Draw
Round 3 Sunday April 15
HOTSPURS v St Pats FC
at Alexandra Park East Albury
Ground 1
8:30am Sixteen Boys
9:55am Thirds Men
1:10pm Reserve Men
3:00pm Senior Men
Ground 2 & 3
9:30 am Div 2 Women
9:35 am Tweelve Boys
11:00am Over 35s
11:55 am Fourteen Boys
Note: 11 Boys, 11 Girls, 13 Boys, 13 Girls and 16 Girls all have BYES
Duty Team
No duty team until next home game which will be round 6, April 29 v Boomers.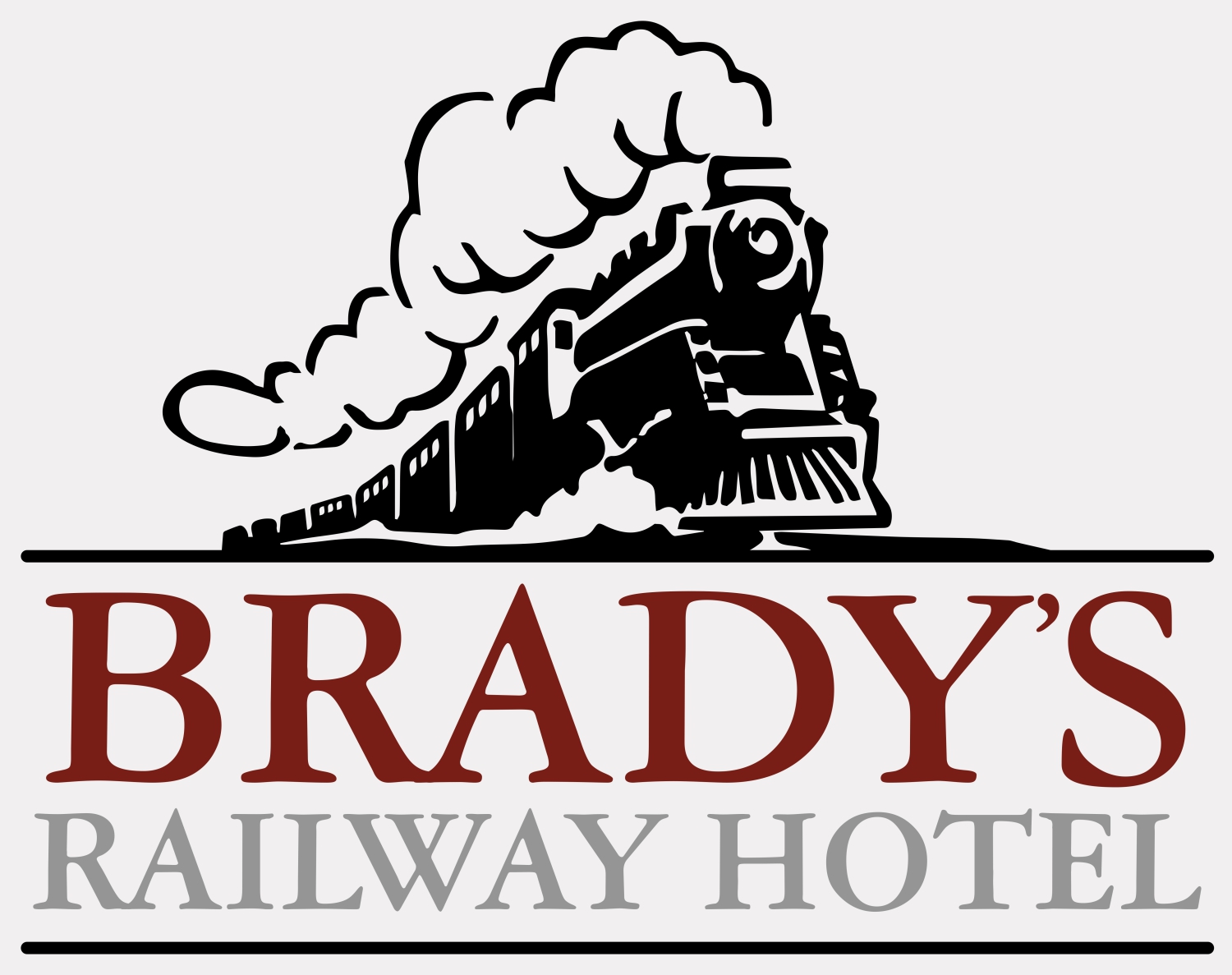 2018 MAJOR SPONSOR – BRADY'S HOTEL
 
Remember to let John Irvine or Simon Baker know you're from Hotspurs when purchasing you next vehicle, the club benefit with bonus sponsorship and they will make sure you get the best available deal.
Social Club Member
All registered players are automatically a Social Club Member and receive Social Club Members prices to Hotspurs functions. Non members shall incur a slight surcharge.
If you are a non-registered supporter or friend of Albury Hotspurs, for $20 you can now register as a Social Club Member through myfootballclub. Details on how to register as a Social Club Membr can be found on our Registration page.
Miniroos
Training at Aloysius Park, South Albury
5-6pm Every Tuesday after that, except NSW school holidays.
Draw Saturday 14 April
Note: All games at Jelbart Park.
5 years, Hotspurs v Albury United Green SSF3 12:30 pm kick-off
6 years, Hotspurs Black v Melrose White SSF5 12:30 pm kick-off
6 years, Hotspurs Gold v Boomers Red SSF9 12:30 pm kick-off
7 years, Hotspurs Black v Albury United White SSF2 1:30 pm kick-off
7 years, Hotspurs Gold v Albury United Green SSF1 1:30 pm kick-off
8 years, Hotspurs Black v Albury City Q3 12:30 pm kick-off
8 years, Hotspurs Gold have a BYE
9 years, Hotspurs Black v Boomers Q6 1:30 pm kick-off
9 years, Hotspurs Gold v Melrose White Q2 1:30 pm kick-off
10 years, Hotspurs Black v United Green Q2 2:30 pm kick-off
10 years, Hotspurs Gold v Boomers Q4 2:30 pm kick-off
Please be at the ground 20 minutes before kick-off
Full season draw now available from menu, MINROOS>Miniroos Draws>
And on Team app under schedule for each age group.
Make sure you have requested access to your appropriate age on your Hotspurs Team App.
For more information please call Paul Kinning – 0400422805 or Wayne Davies – 0477 872410
Our Miniroos kids looked fantastic in their new Quest Wodonga shirts and Hotspurs kit bag on a warm and sunny April day.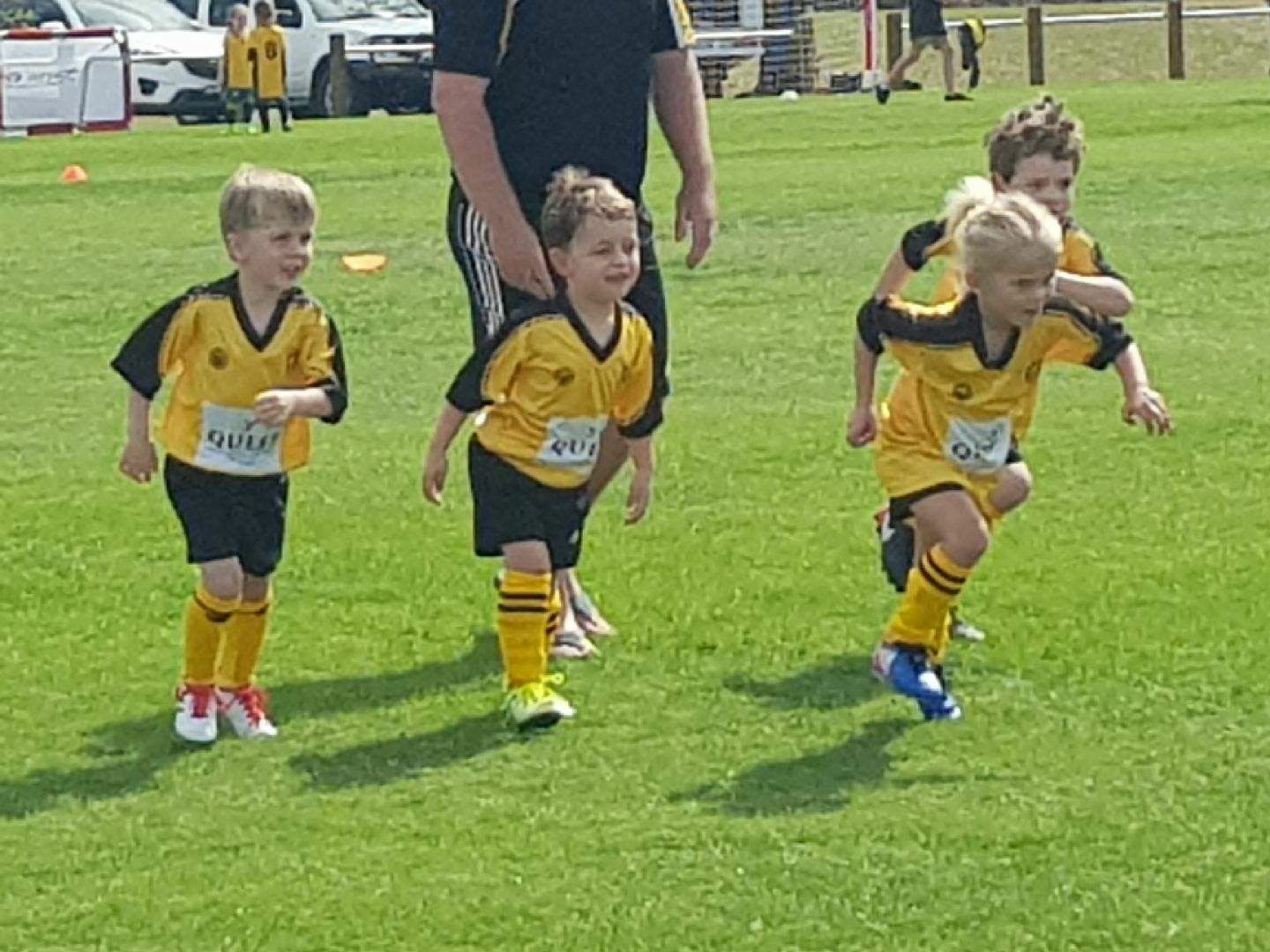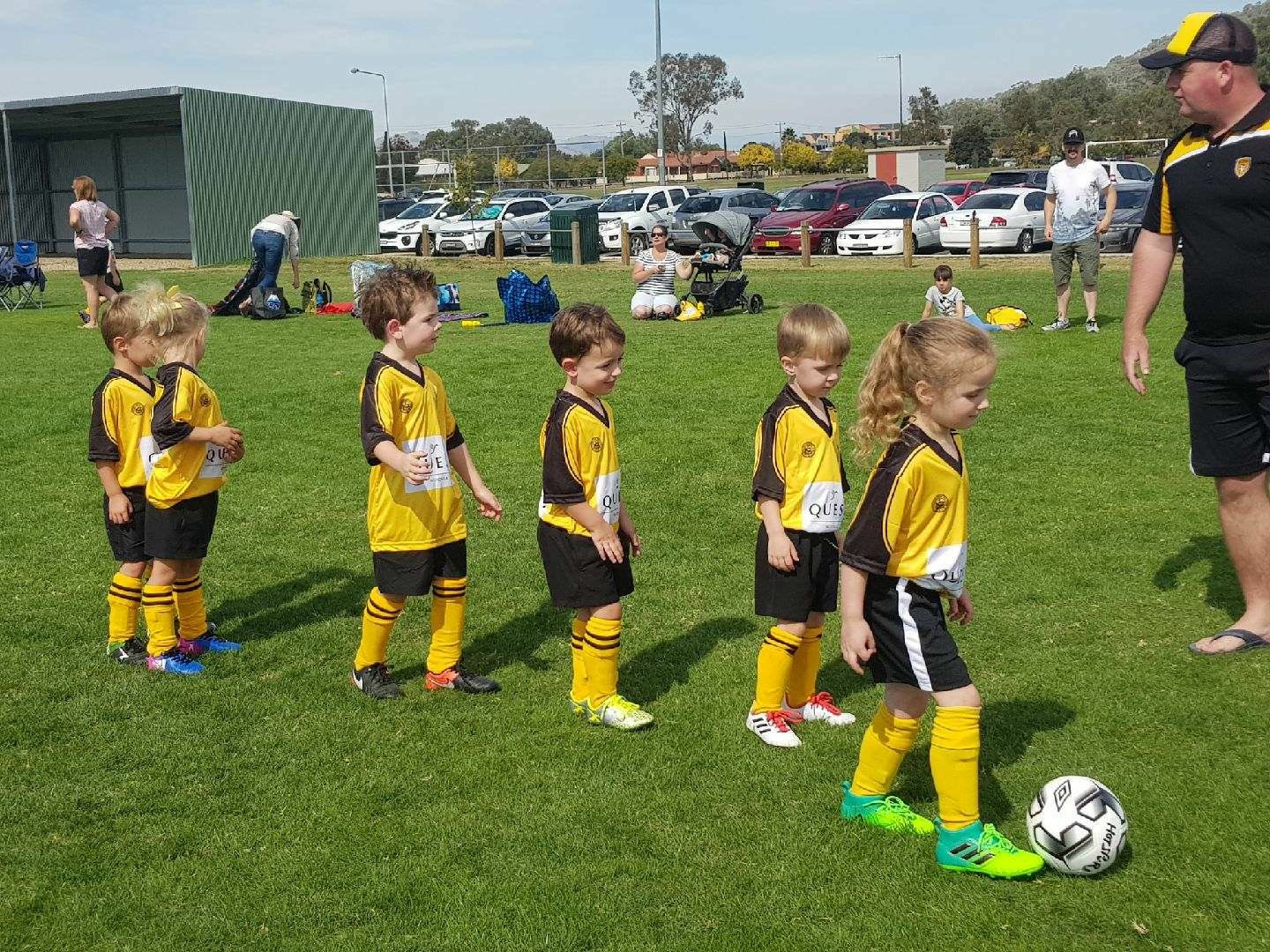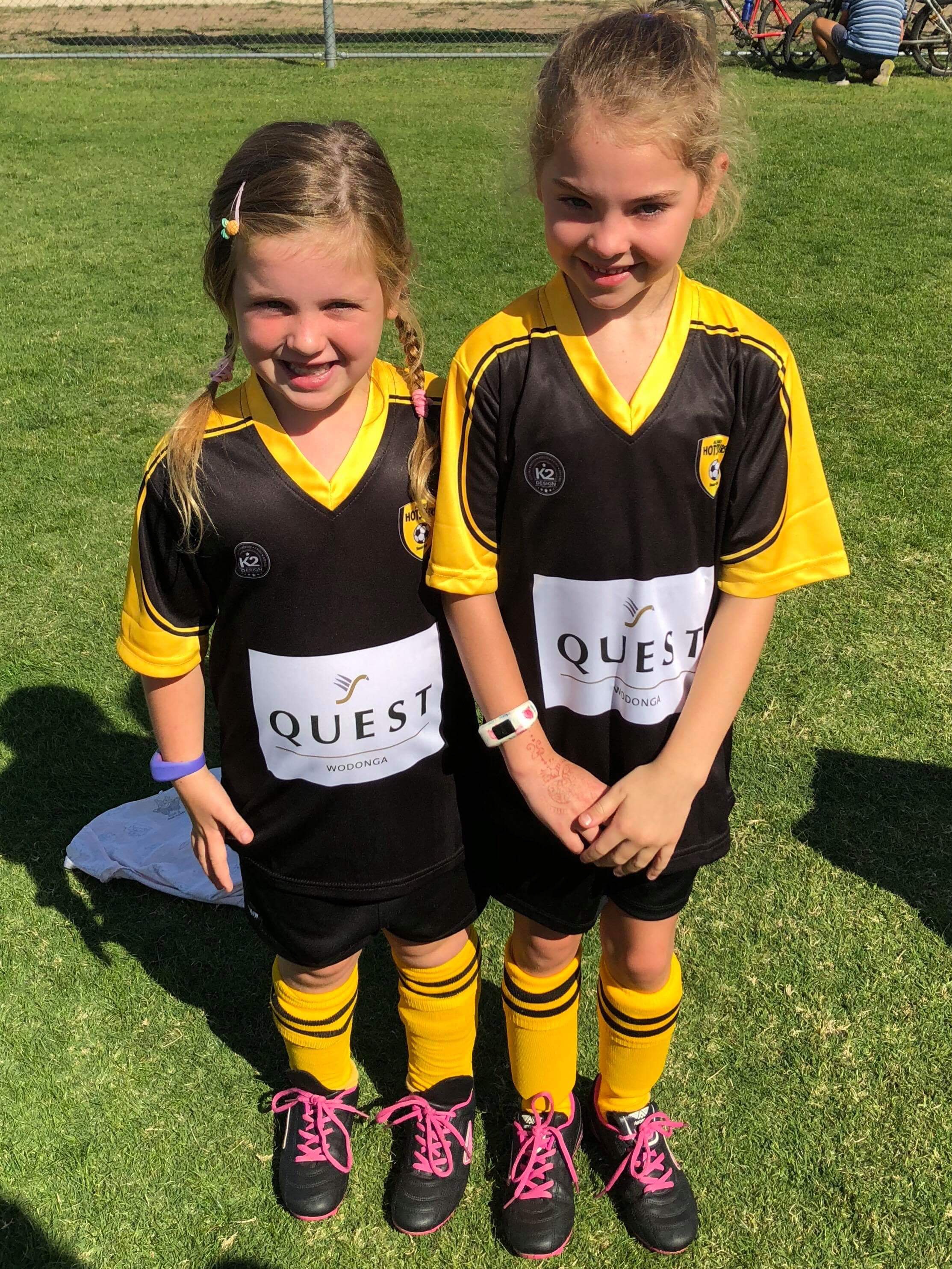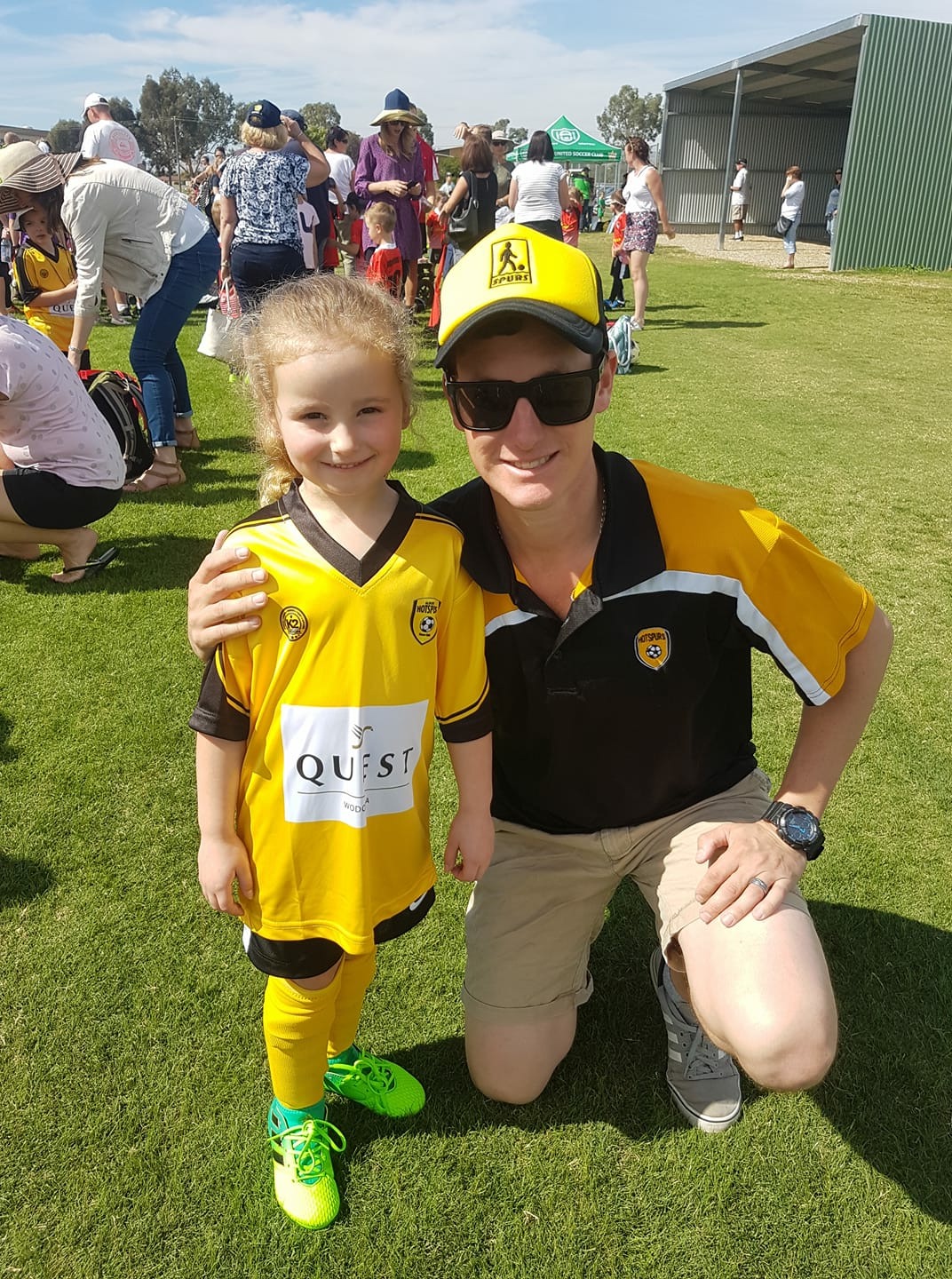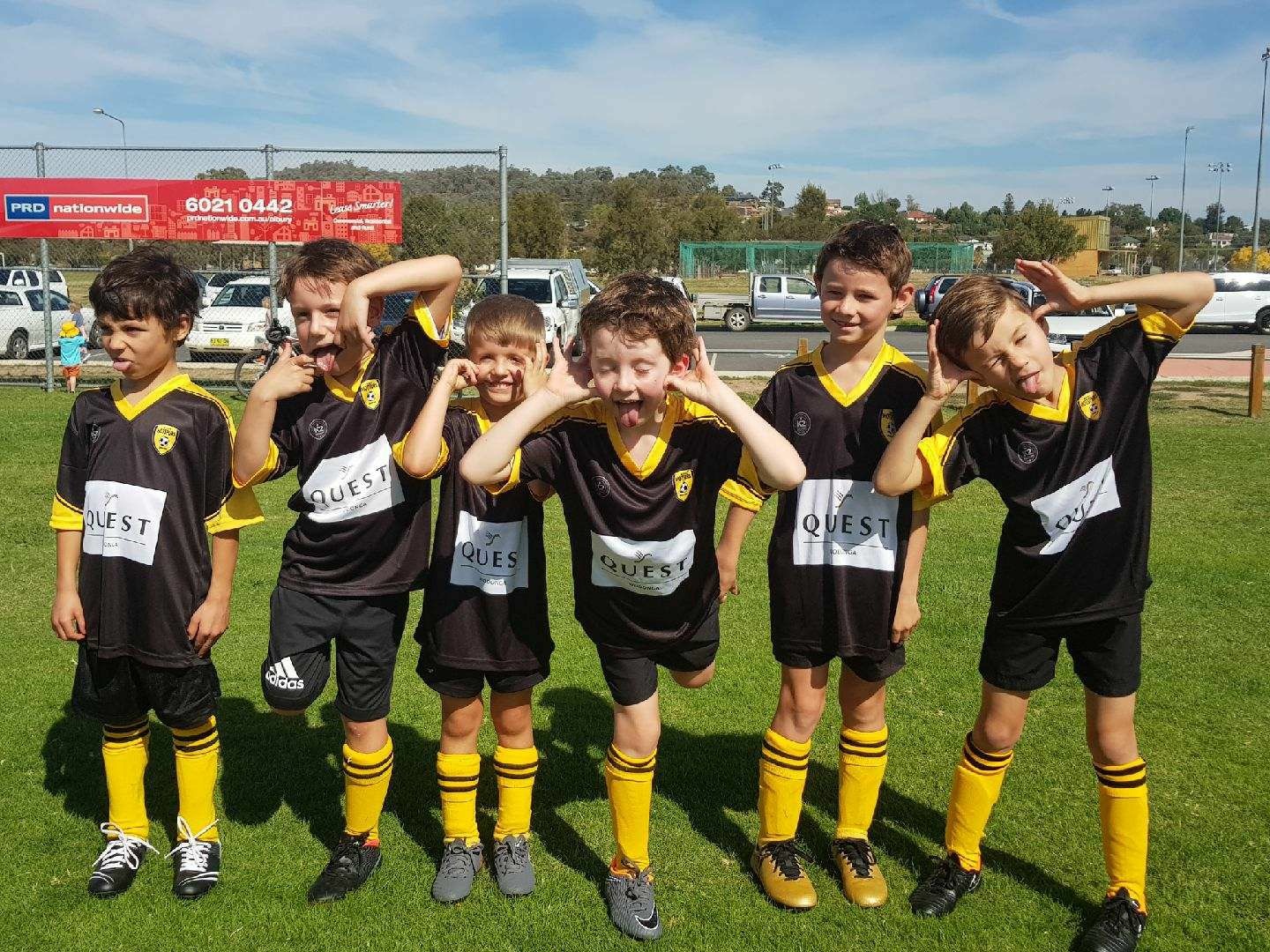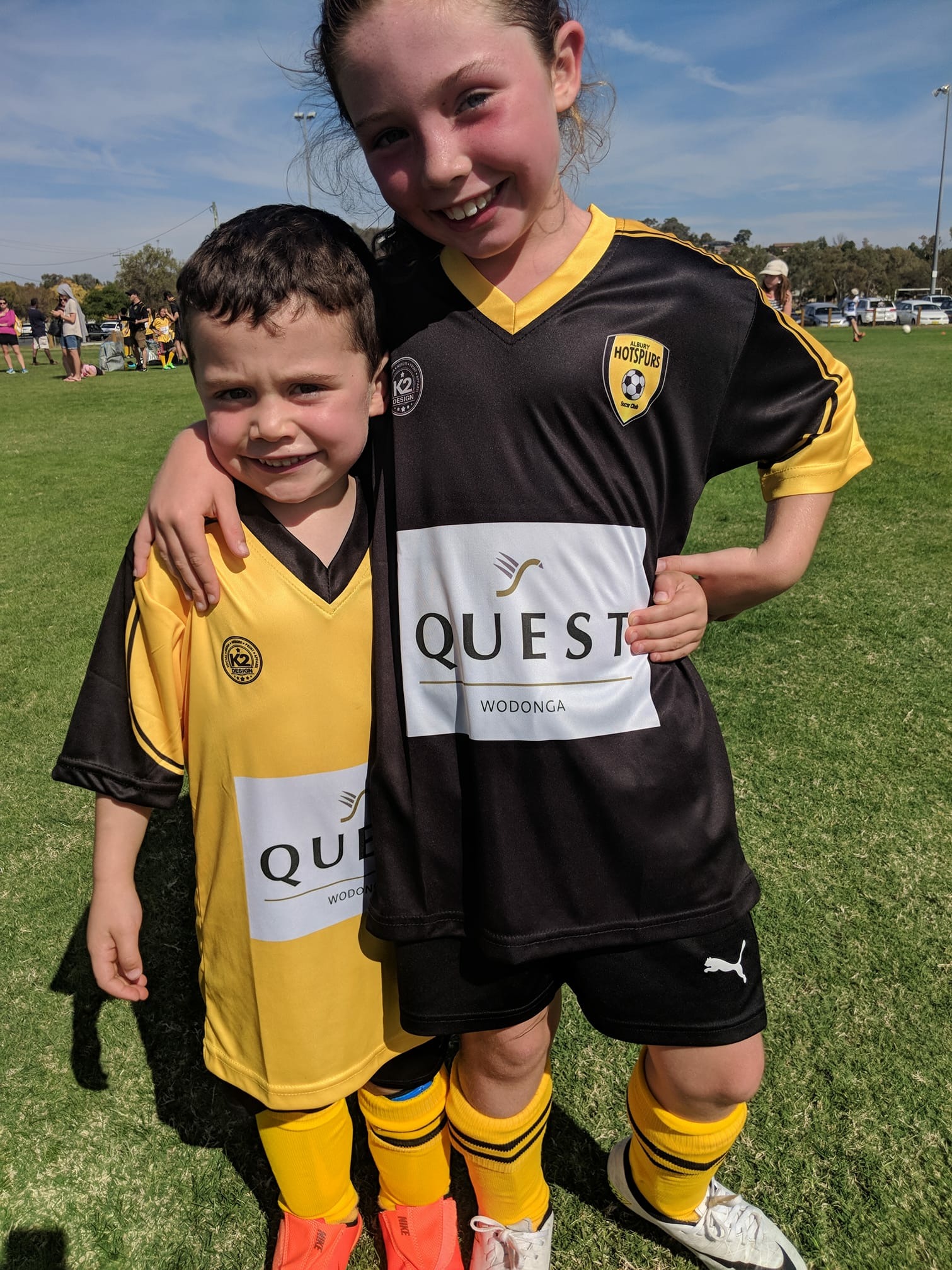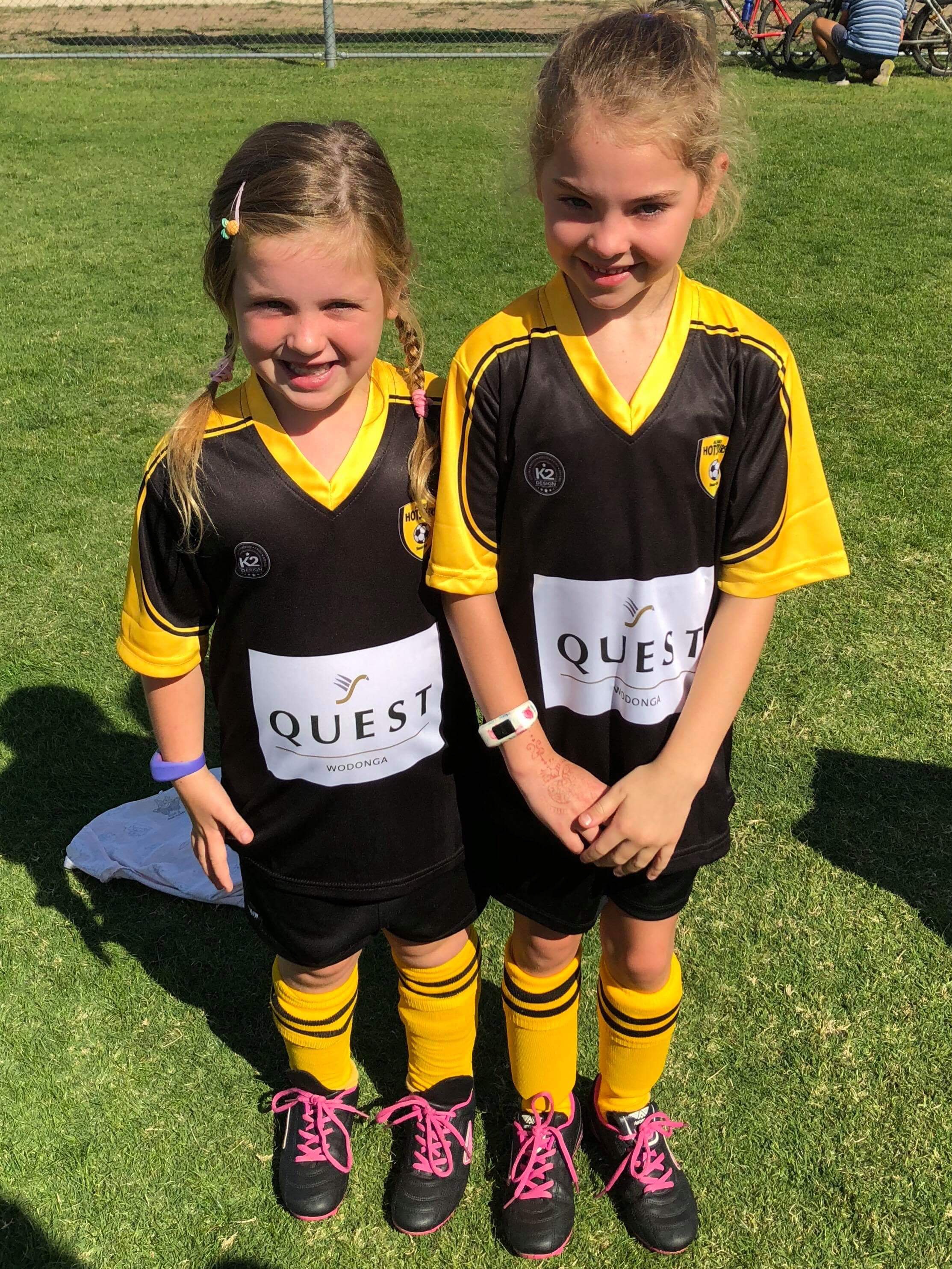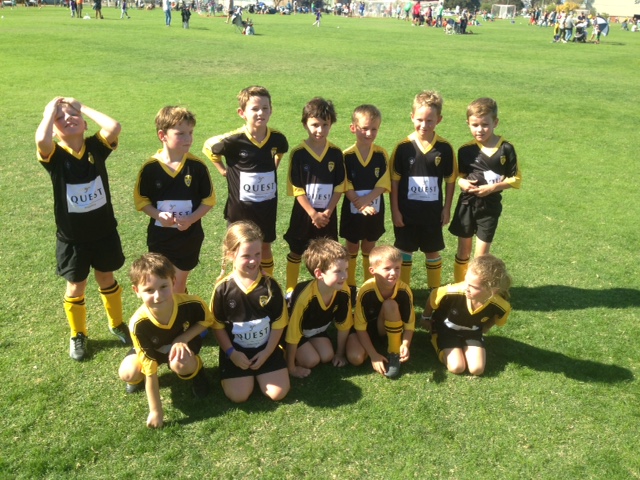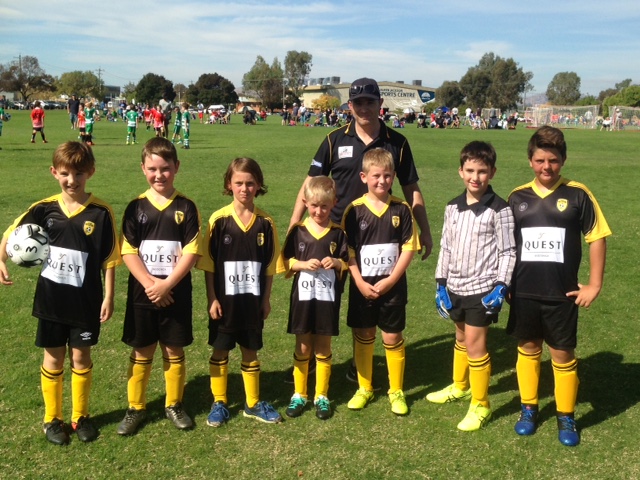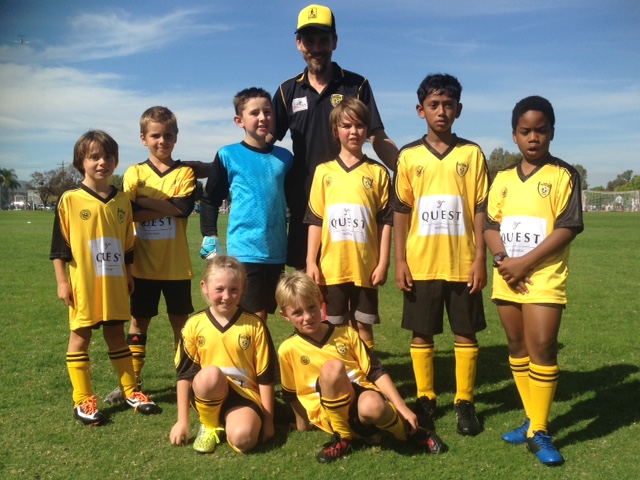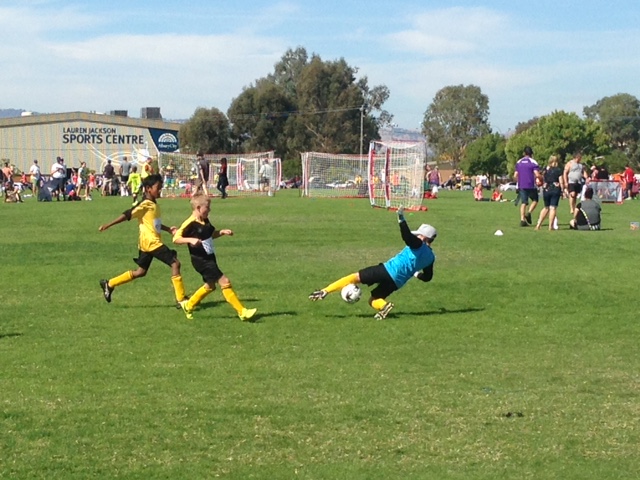 Teamapp
Albury Hotspurs Teamapp users, If you haven't done so already, please open your app and request access to your appropriate teams. Especially Miniroos. We can't notify you if you don't have an access group and allow notifications to you mobile.
Hotspurs Club Shop is open
This year the senior group have developed a NEW club Senior polo and jacket.
The club has decided to keep some stock of these to be available for purchase on home games at the ground (New WOW hat and club neckties will also be available).
ALL other items in the online shop need to be ordered by certain dates where a bulk order will be placed into production and delivery will then be 3 to 4 weeks after said date. GO TO SHOP
2018 cut off dates
6 April 2018 CLOSED (approx. delivery 6/5)
18 May 2018 (approx. delivery 17/6)
13 July 2018 (approx. delivery 12/8) Final season order.
Full payment must be made before placement of your ordering into production.
Hotspurs Club Coaching Panel
The Hotspurs Club Coaching Panel has been formed, and consists of the following members of the club, John Belgre, Robert Tuksar, John Irvine, Matt Townsend and Fiona Smith.
From time to time there will be some useful information posted here for our coaches.
Coaches can also utilise the Coaching Panel for help, with any aspect of coaching. It's an experienced, and great group, to assist those wishing to develop their coaching and ultimately the teams performances.
---
Junior Encouragement Awards
We are currently seeking interest from the current and new businesses who would like to supply/support our junior members with awards for this season 2018.
We would like to thank and acknowledge these businesses for their support.
Match Reports
11 Girls v United won 7 – 1
A great game and team effort from all the girls in very hot conditions.
The Spurs dominated possession throughout the match, gaining confidence to move the ball around and find space down the wings.
The Spurs managed to keep the ball and the opposition in the attacking half with an impressive defensive effort from Zali, Eloise, Bianca and Lucy. Some good clearances from defence and decisive runs down the wings, by Alice, Rylee, Isla and Seanna had the opposition scrambling. The dominant possession in attack lead to great first half goals to Alice (super strike from out wide), Imogen, Mia and Seanna.
Fresh from her first half stint in goals, Ava came out firing in the second half with several decisive runs and a blistering goal. Isla, Imogen, Mia, Rylee and Taylor all looked menacing in attack with some fantastic shots on goal. Mia ended up bagging her second, and Taylor scored a well-earned goal.
Well done Spurs – an impressive effort from all the Team, and an impressive start to the year.
Special mention to Ava and Poppy for being goalie, and to Craig for filling in for Super Coach.
11 Boys v United won 7 – 0
After a dominant but slow start and missing a few key players, the team found the back of the net only once in the first half, missing free kicks and a penalty.
But a combination of great team positioning and leadership from Carl and Sam saw the boys regroup and hit their straps for a nice win. Birthday Boy Aydan scored a ripper goal to break his season drought.
Cooper was rope-able that his father dragged him to the pine before he could manage a hat-trick. Special mention to Aiden Lescun-Davies coming up from the u/9s to get a taste of the big league, and dint look out of place nearly scoring.
This week's leadership award goes to Carl Liden for listening to the coach and selflessly putting his team mates first with some classy through balls into space.
Goals to Cooper x2, Aydan, Billy, Josh, Harrison and Isaiah.
12 Boys v United won 6 – 2
We were down some key players in Tahlia, Ruby, Daisy, Ashleigh and Lenny today who were away at AWFA Reps, and also Al who didn't check the newsletter 🙂 (Its all cool Al)
The void was filled with eager U/11s wanting to step up to the larger field. After another slow start and a warmer day the boys were showing signs of fatigue, mainly due to chasing/ fighting each other and climbing trees for an hour preceding kick off. After half time refreshments, lollies and oranges and a rocket from the coach, the team refocused and turned the tables on the opposition.
Some great through balls up forward from Louis, Carl and Zavier saw Ben and Cooper find the back of the net on multiple occasions. Ben showed a lot of class again when he flicked the switch.
Special mention to Trae who was outstanding down back showing impressive pace and poise, not bad for a kid playing his 3rd game of proper football.
Goals to Ben x 2, birthday boy Aydan who scored another ripper, and Cooper who finally got his hat-trick, albeit with the aid of a 90 degree deflection off the opposition.
16 Boys v United lost 3 – 5
A tough game against a fast United outfit. Our boys did well not to let them dominate all game and it was a couple of lapses in our concentration that let United score.
Big clap for our two goalkeepers ( Zac and Harry N ) who kept the score down with their great skills. Great work coming out of the back line lead well by Connor.
Goals going to Harry Maher, Jacob Godfrey and Jack Castles.
Big thankyou to Brendan O'Neill for running the line for us.
Thirds v United lost 0 – 1
Another loss for the Thirds, going down 0-1 on Sunday, despite some great play in the second half that led to opportunity after opportunity to score. United scored their only goal in the first half and after that no-one was able to find th back of the net. Kudos to goalkeeper Will for a few terrific saves and to Mitch who had a great game. After a half-time exhortation from Joel to keep their heads up that's exactly what the team did, and were unlucky not to get on the scoreboard. In their determination to keep driving forward Harry injured his ankle and had to retire and Oliver catapulted into the bench. United's defence were sorely tested, especially in the last part of the game, but Hotspurs just ran out of time. Thanks to Damian (of the Over 35s) and to Zac for running the lines.
Over 35s v United lost 2 – 3
Always a tough physical game against United and this time round was no different. We started off strong keeping our structure tight and keeping possession. 10 mins in and Damo finished some good work from the midfield for the first goal. Unfortunately the Referee had decided we would play an extra 5 minutes each half and just before the break a lapse in defence gave them them the equaliser going into halftime 1-1. The second half we were outplayed early and only kept in the game by some brilliant saves from Butsy. They managed to brake through finishing a rebound ball off the crossbar which gave them the lead. We slowly clawed back into the game with a number of attempts narrowly missing. The equaliser coming from a lovely Harro finish from inside the box. With 5 mins to go and against the flow of play they scored the winning goal of the game. (2 of their goals comming in the extra 5 minutes we normally don't play!)
---
Match reports and newsletter information
Please email all match reports, photos and Hotspurs news to info@alburyhotspurs.com.au by Monday evening at 9pm